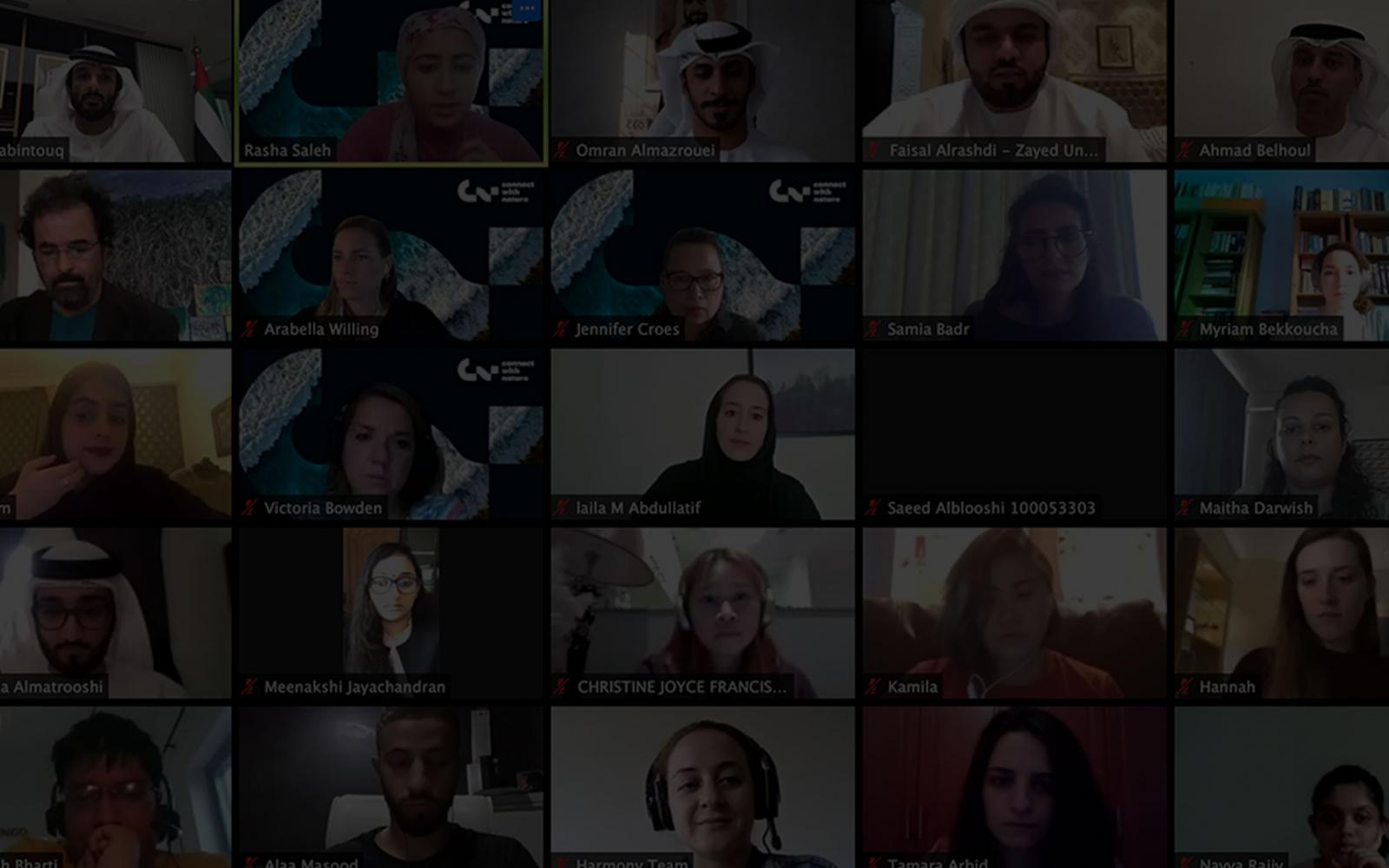 Together for Change
TOGETHER WE CAN BUILD A BETTER FUTURE
The COVID-19 pandemic has shown us that we are all capable of immense change, when we unite around a common goal.  Collectively, we can amplify bright ideas to disrupt the status quo and accelerate solutions that drive us towards designing a sustainable UAE. We are all responsible!
Sign the 'Together for Change' digital pledge to show your commitment to taking action for nature for the #Next50.
---
YOUTH WANT A GREEN RECOVERY TO SHAPE THE UAE'S NEXT 50 YEARS
Youth are our future changemakers. The voices of UAE youth are crucial to ensure the environment is top of the nation's agenda as we set sail towards designing the next 50.
In May 2020, our education programme Connect with Nature created a series of tailored youth circles in partnership with the Federal Youth Authority, aimed at offering UAE youth a platform to share their ideas and ensure that they have a voice.
The youth have spoken and the insights from these sessions have been captured in a flagship white paper, written by youth, for youth.
---
FOUR KEY AREAS OF ACTION PROPOSED BY YOUTH

---
TOGETHER WE CAN BUILD A BETTER FUTURE
We know that scalable transformative impact can be achieved if we work together.
For almost two decades, Emirates Nature–WWF has been a prominent and active partner in environmental conservation in the MENA region. We work to conserve nature and reduce the most pressing threats to the environment with science-based solutions.
Learn more about our local and global campaigns below.
ONE HEALTH - REDUCE THE RISK OF FUTURE PANDEMICS
By continuing to take over natural land for human use, we have pushed wildlife, livestock and people closer together and unleashed a global pandemic. COVID-19 has demonstrated that the health of nature and animals is closely interlinked to the health of humanity – impacting our society, economy and very survival.
Support sustainable food systems that enable us to feed a growing population without relying on agricultural deforestation and land conversion.
Stop illegal, unregulated and high-risk wildlife trade and consumption, by reducing consumer demand for wildlife and supporting safety standards.
Build a sustainable relationship between people and nature through holistic economic recovery approaches. By prioritizing the restoration of nature, we ensure our long term resilience.
GIVE BACK TO NATURE - SAFEGUARD ICONIC SPECIES & HABITATS
We rely on nature for all our necessities – food, water, air, natural resources and livelihoods. But at our current rate of consumption, we risk losing natural habitats, forests, and wild animals forever. We must restore nature now, while we still have it.
Protect iconic species from the threat of extinction. Globally, 1 million species are at risk of extinction. By studying natural habitats, we inform local policy on safeguarding and boosting the population of vulnerable species in the UAE, such as the green turtle.
Reverse loss of nature to ensure access to vital resources for future generations. Globally, we consume 1.7 times more resources than the earth can replace in a given year. Learn about our local projects to preserve natural resources, such as freshwater.
CLIMATE CHANGE - LEAD THE GREEN RECOVERY
Climate change has already demonstrated its wide-ranging impact on temperatures, sea levels and weather conditions, compromising natural and human habitats, food security, infrastructure and other critical elements of human life. Unchecked, this impact will continue to worsen.
Reduce carbon emissions by streamlining operations and using resources like water and electricity more efficiently. A lower environmental footprint can also make a positive impact on the bottom-line.
Support a low-carbon economy fuelled by renewable energy sources, like solar. The green economy has the potential to boost profits, bolster the economy and create valuable jobs.