20. January 2020 — Press Release
20.01.2020 — خبر صحفى
World must act in 2020 to prevent irreparable damage to planet, WWF warns ahead of World Economic Forum in Davos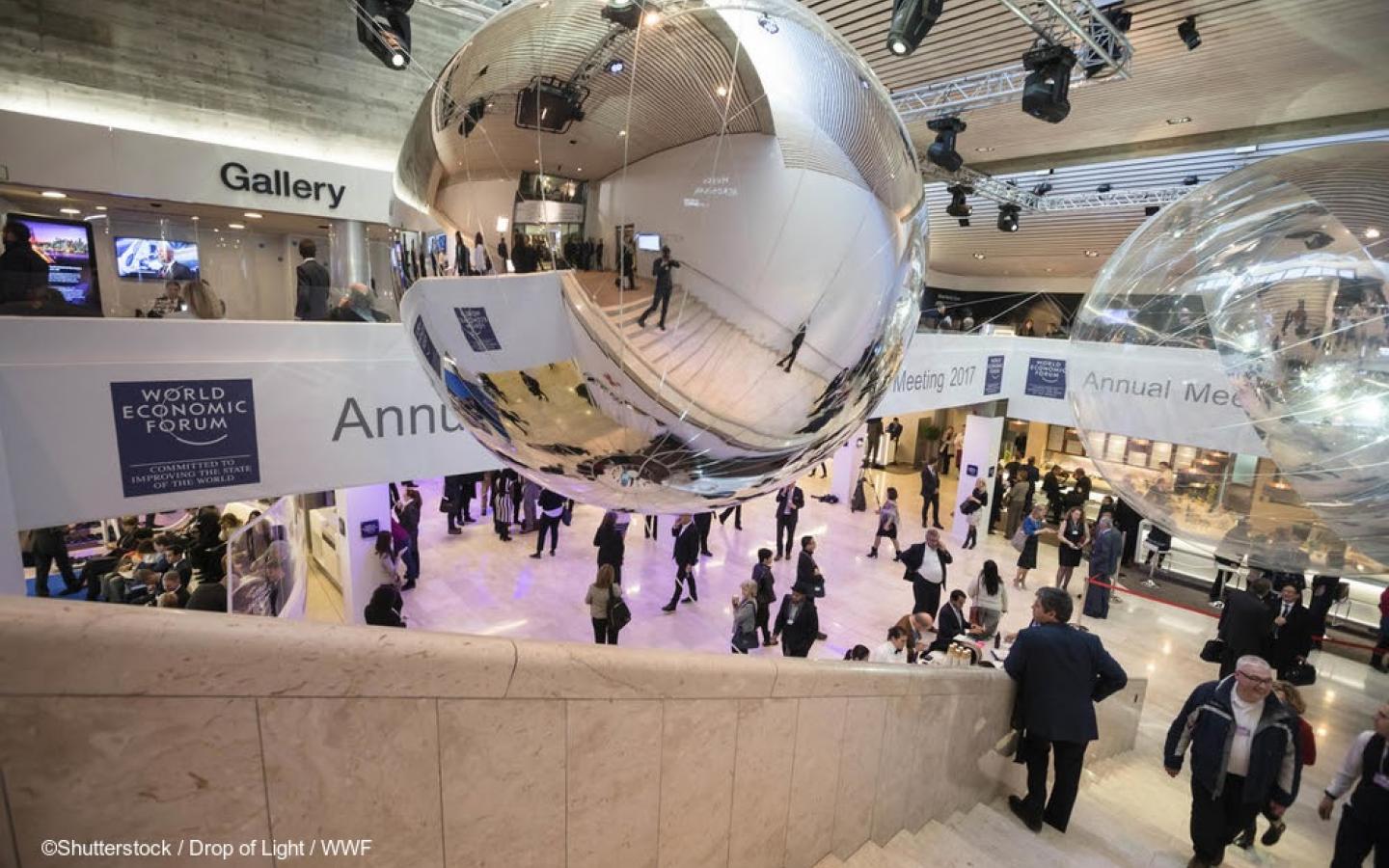 GLAND, Switzerland (20 January) – The world's largest conservation organization, WWF, today called on global leaders attending the World Economic Forum's Annual Meeting in Davos, Switzerland, to take urgent and unprecedented action in 2020 to address the interconnected emergencies facing our climate and nature.
The intervention comes amid a surge in public concern over the impacts of human activities on our planet and scientific consensus that our relationship with nature is dangerously unbalanced.
2019 saw global greenhouse gas emissions continue to rise, deforestation accelerate, and plastic pollution reach every corner of our planet. The first weeks of 2020 have seen the Australian bushfires escalate, dealing a terrible toll on people and wildlife. Such tragic events are only likely to increase unless decisive action is taken for our planet.
"Human overexploitation has pushed our planet perilously into the red. We are using nature at a rate faster than it can replenish itself and continuing to pump ever greater amounts of greenhouse gases into our atmosphere. Never before has the threat of irreparable damage been so close."
"Urgent action is needed to rebalance our relationship with the natural world. The consequences of not changing course are enormous, not just for nature but for humans. We depend on nature much more than nature depends on us," said Marco Lambertini, Director General of WWF International.
The figures outlining our damaging impact on nature are alarming. We've already lost more than half our forests and coral reefs. Two-thirds of the world's great rivers are now dammed. Since 1970, wildlife populations have declined on average by 60%, and one million species are now threatened with extinction.
The danger posed to humans by biodiversity loss and climate change are myriad yet often overlooked or pushed into the future. While extreme weather events catch global attention, land degradation, unsustainable agricultural or fishing practices, and ecosystem collapse all impact on human wellbeing and prosperity, and are often felt most keenly by the world's poorest.
2020: our chance to change course
WWF joins others in urging political and business leaders not to miss the opportunity of the '2020 super year' to transform our relationship with nature and secure a sustainable future.
This year, world leaders are set to take critical decisions on the environment, climate and sustainable development which together have the potential to rebalance our relationship with nature, for the benefit of people and planet. During the year, an agreement on a new biodiversity framework, action on climate change, a new treaty for the oceans, and a renewed commitment to the environment under the Sustainable Development Goals will be negotiated.
With a growing coalition of voices – including governments, businesses, civil society, indigenous communities, faith groups, and youth and the public – demanding action on nature, 2020 must be the year we act to prevent irreparable damage to our planet. The world must drive through a New Deal for Nature and People, as comprehensive, ambitious and science based as the global climate deal agreed in Paris in 2015.
"Political and business leaders meeting in Davos will shape the global agenda for the year," Lambertini said."They must clearly signal that tackling our planetary emergency is their top priority. After all, it is also a human emergency. Inaction on the environment threatens human health and wellbeing, economic development and business prosperity.
"2020 provides a momentous opportunity to put nature on a path to recovery. The world must agree to zero net loss of nature by 2030, to value and restore nature, and share its benefits fairly. To put it bluntly, it's a chance we cannot afford to miss, our future survival depends on it."
A New Deal for Nature and People would be reflected by a series of strong decisions and commitments by countries that together halt and reverse the world's unprecedented loss of biodiversity and put nature on the path to recovery by 2030.
Davos 2020
WWF will be present at Davos calling on governments, businesses, civil society and other stakeholders to come together to secure a New Deal for Nature and People in 2020.
Together with the World Economic Forum, WWF will be hosting a Nature dinner on Thursday 23 January, during which global leaders will discuss the measures required to halt and reverse nature loss, including sectoral targets.
The event follows WWF and partners' successful Leaders for Nature and People event at the UN General Assembly (UNGA) in September 2019, which brought together 10 Heads of State in support of a UN Emergency Declaration for Nature and People.
The business case for action is unquestionable. Natural disasters caused by climate change and human ecosystem disruption already cost more than $300 billion per year. Meanwhile, climate-smart growth could deliver at least $26 trillion in economic benefits through to 2030, and a move to more sustainable agriculture, combined with forest protection, could deliver over $2 trillion per year.